Blog Archives
Columnist Wayne Rée shares his discovery of comic books, from his start as a super-hero fan to his evolution into a believer of the power of the art form of comics.
There's a declaration, almost a mantra, that I recite seemingly every couple of months. For some reason, I never seem to fulfill it.
I need to read more crime fiction.
Whether in comics or prose, it doesn't matter. I never feel like I'm getting enough crime fiction in my life. But this site's called The Comics Observer for a reason; so in logic's name, let's just stick to graphic literature for now.
The Hard Hello
The first crime comic I read was Frank Miller's Sin City (later retitled Sin City: The Hard Goodbye) – but I guess you could say the same for a lot of people my age. I was probably about 16 or 17, and was naturally floored. But then again, when you're that age, a bad guy murdering a bunch of worse guys because they killed the woman he loves was almost definitely going to be on my list of favourites.
Don't get me wrong—I'm not taking anything away from Sin City. Visually, it's Miller at the top of his game, if you ask me. There's a brutal poetry to his use of light and shadow that few can match. And the story was gorgeous in its simplicity. But it was that same simplicity that got me craving for something more.
Judd Winick: Boy Criminal
In the late '90s (I swear, I use that phrase way too much in this column, don't I?), Judd Winick was the guy who created the incredibly funny and heartwarming Frumpy the Clown strips, as well as the rude and equally hilarious Barry Ween: Boy Genius comics.
So when he became the guy behind Caper from DC in the early 2000s, I was obviously curious. The book basically followed three generations of a… well, not a crime family, but a family with ties to crime. The series, especially the initial story-arc (illustrated by Farel Dalrymple), was phenomenal and my first exposure to crime comics that were a little more character-driven.
The two protagonists (if you could call them that) from the first arc, Jacob and Izzy, aren't hard-asses. They're just normal guys—brothers—who happen to be criminals. They had their own personalities and were fully formed individuals. Which, I know, seems like a no-brainer and the kind of thing you expect from a good comic, but it felt like a revelation to me at the time.
Till this day, I think it's a shame that DC hasn't collected all 12 issues as trade paperbacks because it's a book that definitely deserves a wider audience.
Partners in crime
After Caper, I was craving more full-bodied crime comics—so, find out that there was one titled Criminal seemed like the most obvious next step.
It's been ten years since I picked up the first issue of Ed Brubaker and Sean Phillips' series and, till this day, it's still one of, if not my favorite crime comic. It's brutal, but not in the way Sin City was. It's more subtle; even more poetic, but in a different, grittier way than Miller's subdued flashiness (I swear, this is a thing).
I've pretty much devoured almost anything with Brubaker and Phillips' names attached to it since then. Incognito, their pulp/crime comic was interesting, but their current run on Fatale—a book that mixes Lovecraftian horror and noir—has been a treat.
Just when I thought I was out…
There have been other books, certainly. Comics like Gotham Central, Powers, Blacksad, Alias, Scene of the Crime, and Brian Michael Bendis' indie stuff. In fact, there are probably too many to talk about in just one edition. And that's still only just barely scratching the surface of it. Why?
Because I need to read more crime fiction.
Wayne Rée's been writing professionally for about ten years. He's worked in everything from advertising to publishing, and was even part of the team that created Singapore's very first tattoo magazine. He dabbles in screenwriting and photography, travels way too much, and is currently putting together his very first short story collection. He blogs about his upcoming book, storytelling and other things at http://waynereewrites.tumblr.com.
Guest columnist Wayne Rée shares his discovery of comic books, from his start as a super-hero fan to his evolution into a believer of the power of the art form of comics.
I'm writing this on the eve of my flight to California, where I'll be attending my very first San Diego Comic-Con. For those of you who don't know, SDCC is arguably the biggest comic convention in the world, an event that attracts not just all the big comic publishers, but also television and movie companies – all vying for the almighty nerd dollar.
But, with all the craziness that's bound to ensue, my main goal for this trip is oddly simple: I just want to meet Jim Mahfood, and Chynna Clugston-Flores. Everyone and everything else, honestly, would just be gravy. Why these two artist/writers? Because they're the ones who got me into Oni Press.
The real mainstream
That phrase – according to Wikipedia, originally "coined by Stephen Holland of the UK comic shop Page 45" – has been used to describe the kind of comics that this 15-year-old company produces. They're, from what I understand, comics that are for people who can't drop obscure facts about Marvel and DC's superheroes.
I prefer to describe them as the kind of comics that I never knew I needed.
Food One for thought
Though he now publishes most of his creator-owned stuff through Image, Mahfood (otherwise known as Food One) was the first creator to bring my attention to that distinctive Japanese-styled demon-headed logo. I've mentioned before that I was quite the Kevin Smith fan way back when, so the Clerks comic that he did with Mahfood was my initial foray into Oni. From there, I picked up Food One's Grrl Scouts series and pretty much anything else with his name on it.
People always talk about how they discovered the punk rock ethos while listening to The Ramones or The Sex Pistols or The Clash. I discovered it while reading Mahfood's books. His stories are straightforward. His art is gorgeously dynamic, yet also wonderfully simple. But, most importantly, his comics had balls and they were fun.
Chynna democracy
In the late '90s, the publisher had an anthology series called Oni Double Feature, a comic that I owe a great deal to. Aside from giving me more Mahfood (in the form of a two-part Zombie Kid story), it also introduced me to other gems from Oni – like Chynna Clugston-Flores' Blue Monday.
Usually described as Archie with more sex and swearing, Blue Monday tapped into my love for good teen movies (a love that lasts till today, mind you). It was what would have happened if John Hughes became a comics creator instead of a filmmaker and I loved every panel. But more than anything else, it was the first of many comics that'd introduce me to some really awesome bands.
Chynna's love for The Jam was what got me into the band in the first place. Her love for mod revival culture continued in her Scooter Girl mini-series, which till this day, remains one of my favorite comics ever (and not just because one of its main characters was supposedly based on Parker Posey).
And then there's everything else
Oni's output of quality books certainly extends beyond the works of these two creators. Off the top of my head, I can easily and happily recommend books like Jen Van Meter's excellent Hopeless Savages (about an incredibly loveable and genuinely sweet punk rock family), Judd Winick's Barry Ween: Boy Genius (think a potty mouthed Dexter's Laboratory), Brian Wood and Steve Rolston's punk rock romance-gone-bad dark comedy Pounded, Greg Rucka's espionage epic Queen and Country, and – of course – Bryan Lee O'Malley's Scott Pilgrim series.
But Chynna and Jim were my firsts. Not only did their work lead me to all those other great books, but pushed me headfirst into the whole world of indie comics (beyond The Crow and Teenage Mutant Ninja Turtles, that is).
Next time round
I mentioned a bit about how Blue Monday introduced me to The Jam. I'll probably talk about more about the relationship between music and comics in the next edition. But for now, I've got some last minute packing to get done.
* I know, I know. That pun's so cringe-worthy that it hurts. Look, it's 3AM here and I'm too wired up about my flight to care.
Wayne Rée's been writing professionally for about ten years. He's worked in everything from advertising to publishing, and was even part of the team that created Singapore's very first tattoo magazine. He dabbles in screenwriting and photography, and travels way too much.
New Comics! For You!
Never read a graphic novel before? Haven't read a comic book in years?
Here's some brand new stuff coming out today that I think is worth a look-see for someone with little to no history with comics. That means you should be able to pick these up cold without having read anything else. So take a look and see if something doesn't grab your fancy. If so, follow the publisher links or Amazon.com links to buy yourself a copy. Or, head to your local friendly comic book shop.
Disclaimer: Having not read these yet, I can't vouch for their quality. But, from what I've heard and seen, they just might appeal to you.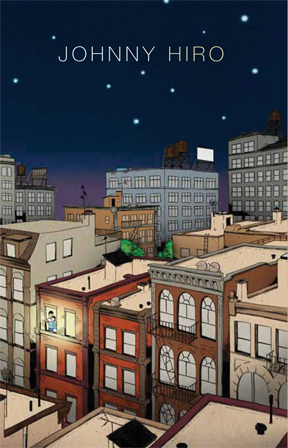 Johnny Hiro Vol. 1 - $14.95
By Fred Chao
192 pages; published by AdHouse Books; available at Amazon.com
Part action-adventure, SciFi and Romance, Johnny Hiro tells the story of an everyman and the challenges he faces. Challenges like the revenge of a big lizard, the quest for a lobster, or what can happen when 47 ronin go to the opera. See why the comic was nominated for FOUR Eisner Awards and one Russ Manning Award.
Looks like it doesn't ship to book stores or from Amazon until June, but comic specialty shops should have it this week! Now there's an incentive!
This silly comic is tons of fun while still maintaining heart. This is a good'un.
Femme Noir: The Dark City Diaries – $19.95
By Christopher Mills and Joe Staton
148 pages; published by Ape Entertainment
On the mean streets of Port Nocturne, justice is blonde! This volume collects all 4 issues of the critically acclaimed crime fiction mini-series about a mysterious, gun-toting dame fighting for justice in a dark city drowning in violence and corruption. This volume also includes 2 complete bonus stories, conceptual artwork by Eisner Award-winning artist Joe Staton, and an introduction by the Shamus Award-winning author of Road To Perdition, Max Allan Collins.
Here's a Femme Noir mini-site that has plenty of previews, web-comics and other bonus material. Joe Staton has been working in comics since the 1970s and he hasn't lost any of his skills. Good buy for the Sin City and/or film noir fans in your life.
Clover – $19.95
By CLAMP
512 pages; published by Dark Horse; available at Amazon.com
Kazuhiko is a young, but already deeply wounded black ops agent of a baroque, retro-tech future-pulled out of retirement to escort Sue, a mysterious waif, to a destination she alone knows. Sue and Kazuhiko have never met… yet she knows him, having grown up since the age of four with her only human contact two distant voices: that of her elderly "grandma," General Ko, and of Kazuhiko's dead girlfriend, Ora. And Sue has been kept in that cage all these years because of what she is, and what the Clover Leaf Project found her to be — a military top secret, and the most dangerous person in the world.

* Clover is a long-out-of-print classic from Japan's shojo artist supergroup CLAMP!

* Never before available in its original Japanese right-to-left reading orientation, Dark Horse not only brings Clover into English for the first time, but also collects all four of the original volumes into one reasonably priced omnibus, with a brand-new cover design especially for this edition!
Look, I know next to nothing about manga, but this is supposed to be a good one. It was originally published in the late 1990s. It's got a dystopian steam-punk vibe and stark visualization unique to other work put out by the quartet of artists that collectively use the name CLAMP.
You'll Never Know Book One: A Good and Decent Man – $24.99
By C. Tyler
104 pages; published by Fantagraphics Books; available at Amazon.com
You'll Never Know is the first graphic novel from C. Tyler (Late Bloomer) and sure to be one of the most acclaimed books of the year. It tells the story of the 50-something author's relationship with her World War II veteran father, and how his war experience shaped her childhood and affected her relationships in adulthood. "You'll Never Know" refers not only to the title of her parents' courtship song from that era, but also to the many challenges the author encountered in uncovering the difficult and painful truths about her Dad's service — challenges exacerbated by her own tumultuous family life.

You'll Never Know is Tyler's first first full-fledged graphic novel (after two volumes of short stories). Unlike many other graphic memoirs which have opted for simple, stylized drawings and limited color or black and white, You'll Never Know makes full use of Tyler's virtuosity as a cartoonist: stunningly rendered in detailed inks and subtle watercolors, it plunges the reader headlong into the diverse locales: her father's wartime experiences and courtship, her own childhood and adolescence, and contemporary life. The unique landscape format, and the lush variety of design choices and rendering techniques, make perusing You'll Never Know like reading a family album — but one with a strong, compelling, sharply told story.

You'll Never Know's release schedule and format emulate those of Chris Ware's Acme Novelty Library: three beautifully designed, large-format hardcover volumes released annually to complete a trilogy of astonishing breadth, depth, and sensitivity.

"If you want to find out what happened to Willie and Joe after they got home from World War II, You'll Never Know is the perfect place to start. C. Tyler's graphic novel, passionately conceived and brilliantly drawn, extends the range of Bill Mauldin to cover the aftershock of the Last Good War on the warriors who fought it and the collateral damage to their families. Not since Catch-22 has anyone probed the secret heart of the Greatest Generation with this kind of raw, icon busting courage." – Tom Mathews (Our Fathers' War: Growing Up in the Shadow of the Greatest Generation)

"Her work has the extremely rare quality of genuine, authentic heart." – R. Crumb

"She understands people with an acuity that is tender, wise and devastating." – Jim Woodring
I'm really looking forward to this: a graphic memoir and family drama exploring the person we try to present to the world, and reality.
The Photographer: Into war-torn Afghanistan with Doctors Without Borders – $29.95
By Emmanuel Guibert and Didier Lefevre
288 pages; published by First Second Books; available at Amazon.com
In 1986, Afghanistan was torn apart by a war with the Soviet Union. This graphic novel/photo-journal is a record of one reporter's arduous and dangerous journey through Afghanistan, accompanying the Doctors Without Borders. Didier Lefevre's photography, paired with the art of Emmanuel Guibert, tells the powerful story of a mission undertaken by men and women dedicated to mending the wounds of war.
I really love the idea of this. Using Didier Lefevre's actual photographs from the time, Emmanuel Guibert weaves in his own artwork to tell the story of the photographer's journey through Afghanistan. As that country steps into the headlines again, it's good to look at such an intimate and personal level of its history. Great for fans of history and photography. If you find yourself watching shows on The History Channel or Discovery Channel, you should love this.
Flinch – $11.95
By various
120 pages; published by Gestalt Publishing; available at Amazon.com
Flinch is a collection of engaging stories by established and emerging creators, all playing on their interpretation of 'flinch'. From facing the 'other' within ourselves, to the tale of a prison inmate discovering what keeps him going, to a handful of stories exploring traditional (and non-traditional) hauntings alike.

With cover art by World Fantasy Award winning Shaun Tan, Flinch features stories from creative collaborations including: UK fantasy author James Barclay & Chris Bolton, Ray Fawkes & Anton McKay, Justin Randall & Chris Bones, International Horror Guild Award winner Terry Dowling & Skye Ogden and many more!
This looks fantastic, and thanks to the contracting comic shop market, this almost didn't get distributed. Lucky for us, the oversight was corrected. Here's a trailer with tons of peaks at what's inside (and cool music).
Arlene's Heart
By Victoria Frances
80 pages; published by NBM Publishing
The fantasy artist famous for the FAVOLE series of books is back with a metaphor for hope in the shape of a fable where child-like fantasy contrasts with the feeling of isolation and alienation which invades our every day life. Lyrically and suggestively painted, a visual poem of fascinating sensuous gothic beauty. For mature readers.
This eerie fantasy might be a bit abstract and/or racy for some, but others should really dig it.
The Big Book of Barry Ween, Boy Genius
By Judd Winick
360 pages; published by Oni Press; available at Amazon.com
Meet Barry Ween, the smartest living human. What does a ten-year-old boy do with a 350 I.Q.? Anything he wants. Cranky, egotistical, arrogant and foul-mouthed, Barry in general wants to conduct his experiments and be left alone, but it never seems to work out. Hurdles that Barry must outmaneuver range from time warps, to art thieves, to accidentally turning his best friend into a dinosaur.

This massive volume collects all 12 issues of hit series, The Adventures of Barry Ween, Boy Genius.
This looks like a kid-friendly comic similar in concept to Cartoon Network's "Dexter's Laboratory" or Nickelodeon's Jimmy Neutron: Boy Genius, and I suppose it is except for the fact that there's a whole heck of a lot of profanity and more adult humor. Not for kids, but a kick nevertheless.
Special All-Ages Attic! - There are a couple of releases suitable for all-ages this week, which is tragically so rare in modern comics that I thought they deserved their own section. These are great for kids, but all-ages really does mean ALL ages. You're an age, aren't you?
(I was going to call this Kids Korner, but I don't want anyone to think they can't read either of these because they are legally considered an adult.)
Gary the Pirate
By Scott Christian Sava and Tracy Bailey
112 pages; published by IDW Publishing; available at Amazon.com
Thirteen-year-old Judy is so sick of boys and their immature ways. One night… Judy meets a boy unlike any she's ever seen. A real live pirate! But Gary isn't after girls… he's after treasure. Judy offers to help this hapless pirate and they embark on an adventure of a lifetime.
Scott Christian Sava has a series of graphic novels targeted for younger readers. This one is specifically meant for younger girls (age 8-12) but this looks to be a cute story for anyone. Here's a mini-site from Sava's Blue Dream Studios, which includes a look at some of the pages.
G-Man Volume 1: Learning To Fly
By Chris Giarrusso
96 pages; published by Image Comics; available at Amazon.com
From the creator of the sold-out MINI-MARVELS digests comes the first G-MAN digest! Writer/artist CHRIS GIARRUSSO continues his signature Mini Marvels brand of comics with G-Man and his pals, the next wave of all-new kid super-heroes!

Collects the sold-out G-Man one-shot, the G-Man Christmas story, an extensive collection of COMIC BITS comic strips and more!
I have the G-Man one-shot and it's a lot of fun. Really funny and clever cartooning. Don't worry about the Mini-Marvels and all other references in the blurb, all you need to know is in the book – a kid becomes a super-hero in a world full of kid super-heroes, and hijinks ensue.