Blog Archives
Never read a graphic novel before? Haven't read a comic book in years?
Here's some brand new stuff that came out the week of October 14 that I think is worth a look-see for someone with little to no history with comics. That means you should be able to pick any of these up cold without having read anything else. So take a look and see if something doesn't grab your fancy. If so, follow the publisher links or Amazon.com links to buy yourself a copy. Or, head to your local friendly comic book shop.
[And yes, I'm nearly a month behind. You don't have to rub it in.]
Disclaimer: For the most part, I have not read these yet, so I can't vouch for their quality. But, from what I've heard and seen, odds are good they just might appeal to you.
Blood + Water – $17.95
By Judd Winick & Tomm Coker
128 pages; published by DC Comics' Vertigo Books; available at Amazon.com
Adam Heller is dying, but before he can take the big dirt nap, his best friends offer him a chance at immortality and he takes it. Now Adam is a vampire living it up on the wild side and it's everything he could ever want. But the eternal party crashes to a bloody halt when an ancient monster awakens from the dark, forgotten places of the world and comes looking for Adam. The startling reason this monster has come looking for him may be the most horrifying realization of all.
I read this story when it originally came out in individual comic book issues back in 2003. (I can't believe that was 6 years ago.) I find Judd Winick to be kind of a mixed bag as a writer, but this was one of his good ones. And as I recall Tomm Coker's art is even better. It was so solid, I was kind of surprised a sequel never materialized. Maybe this collected edition is a hint that one is finally coming. Unfortunately I couldn't find a preview. If anyone finds one, post it in the comments below.
Heavy Liquid – $24.99
By Paul Pope
240 pages; published by DC Comics' Vertigo Books; available at Amazon.com
"Pope has embellished his stylish love story with heart-stopping action and adventure. …Pope's drawing and page design … is both technically assured and wonderfully expressive." —PUBLISHERS WEEKLY

"This has the potential to attract a large audience, including serious readers, science-fiction buffs, artists, and would-be graphic novelists." —SCHOOL LIBRARY JOURNAL

In a future where New York has evolved into a sci-fi metropolis, "S," a man addicted to "heavy liquid," a substance that is both a drug and an art form, finds himself trapped in a mystery littered with love and drugs. This new edition features bonus sketch material, new coloring and more.
Another one from Vertigo's vaults, this was originally released in early 2000. Paul Pope is one of the art form's more exceptional storytellers and artists and this has been on my must-get list for some time. It's great to see this re-released. DC Comics has a pretty skimpy preview here in PDF.
The Fixer and Other Stories – $19.95
By Joe Sacco
216 pages; published by Drawn and Quarterly; available at Amazon.com
"Sacco is one of the most astute war-zone correspondents working today" –Rolling Stone

"A searing and amusing look at the motley collection of reporters, war profiteers, criminals, soldiers and hapless civilians trapped in war zone." –New York Times

"Sacco doesn't try to lay claim to the truth. He's simply telling one man's story, and it makes for an excellent book." –Washington Post

"Sacco demonstrates that the narrative arts, including comics, can gather up complicated social truths with a gradual patience that often eludes the camera." –Boston Globe

Using old-fashioned pen and paper, award-winning cartoonist Joe Sacco reports from the sidelines of wars around the world. THE FIXER AND OTHER STORIES is a new softcover that collects Joe Sacco's landmark short stories on the Bosnian War that previously comprised the hardcover editions of THE FIXER and WARS END.
It must be re-issue week. This reprints material from 2003 and 2005. Joe Sacco is living proof that comics can do and be anything. Even journalism. And fortunately he's real good at it, too. It's sorta kinda like NPR in comics.
Blackbeard: Legend of the Pyrate King #1 – $3.50
By Eduardo Sanchez, Gregg Hale, Robert Napton, Jamie Nash and Mario Guevara
32 pages; published by Dynamite Entertaiment
Dynamite presents their most ambitious undertaking yet – BLACKBEARD: THE LEGEND OF THE PYRATE KING #1! Under the stunning John Cassaday, producers Eduardo (writer of The Blair Witch Project) Sanchez and Gregg (producer of The Blair Witch Project) Hale are joined by Robert Napton and Jamie Nash to present the ultimate adventure tale of a bygone age, when pyrates ruled the waters!
Beginning with his childhood and carry through to his bitter end, Blackbeard's legacy has never been explored as deeply and illustrated as beautifully (by Mario Guevara) than now!
I don't really consider a comic by the makers of The Blair Witch Project to be all that big of a selling point, but Dynamite has had a pretty decent track record with properties like The Lone Ranger, Zorro and Sherlock Holmes. I think this is their first comic steeped in history and based on an actual person, and I'm sure liberties will be taken. But it looks like a fun ride nevertheless. Check out the preview at the publisher link above.
MOME Vol. 16 – $14.99
Edited by Gary Groth and Eric Reynolds
112 pages; published by Fantagraphics Books; available at Amazon.com
Since its inception in 2005, Mome has served as a comics McSweeney's. Whether exposing new talent like Eleanor Davis (author of the recent Stinky by Toon Books); featuring short stories by contemporary graphic novelists like Dash Shaw (The Bottomless Belly Button); bringing the work of international superstars like David B. (Epileptic) to American audiences; or introducing the work of legends like Gilbert Shelton (The Fabulous Furry Freak Brothers) to a new generation of readers, Mome is the most acclaimed, accessible, frequent, and reasonably priced anthology on the market despite it's high production values and mostly color format.

This issue features several of our favorite alternative comic artists of the last 15 years, bringing us great joy. Archer Prewitt is the first, with an all-new "Funny Bunny" strip created in between his active musical career. "The Moolah Tree" is the new Fuzz & Pluck graphic novel from Ted Stearn, following Fuzz & Pluck and Fuzz & Pluck: Splitsville, beginning serialization here. We are equally proud to debut new work from Renée French, whose work is also featured on the front and back cover of this issue. And Nicholas Mahler debuts to ask "What Is Art?" (translated by secret weapon Kim Thompson).

Also: the second chapter of T. Edward Bak's "Wild Man – The Strange Journey – and Fantastic Accounts – of the Naturalist Georg Wilhelm Steller, from Bavaria to Bolshaya Zemlya (and Beyond)"; a new "Cold Heat" story by the team of Ben Jones, Frank Santoro & Jon Vermilyea; Dash Shaw interprets an episode of "Blind Date" into comics form; and new stories from Lilli Carré, Conor O'Keefe, Laura Park, Nate Neal, and Sara Edward-Corbett, with incidental drawings by Kaela Graham.
This highly regarded quarterly anthology is a great survey of some of the industry's greatest and most innovative creators. If you've always wanted to sample quality alternative comics, here's your first stop. Here's a great big 12-page preview (PDF).
You Are There – $26.99
By Jacques Tardi & Jean-Claude Forest
192 pages; published by Fantagraphics Books; available at Amazon.com
The satirical masterpiece that ushered in the graphic novel era to European comics, finally available in English—the beginning of an ambitious publishing project introducing one of Europe's most beloved cartoonists to American audiences. One of the earliest full-length, standalone graphic novels to be published in Europe, and certainly one of the best and most original, Ici Même was serialized in the adult French comics monthly (A suivre) in the early 1980s and then released in book form. A quarter of a century later, this dark, funny, consistently surprising masterpiece has finally been translated into English.

An unexpected yet smoothly confident collaboration between the darkly cynical Jacques Tardi and the playful fantasist Jean-Claude Forest (of Barbarella fame), You Are There is set on a small island off the coast of France, where unscrupulous landowners have succeeded in overtaking the land from the last heir of a previously wealthy family. That heir, whose domain, in a Beckettian twist, is now reduced to the walls that border these patches of land he used to own, prowls the walls all day, eking out a living by collecting tolls at each gate. His seemingly hopeless struggle to recover his birthright becomes complicated as the government sees a way of using his plight for the sake of political expediency, and the romantic intervention of the daughter of one of the landowners (who has her own sordid history with the politician) engenders further difficulties, culminating in an apocalyptic, hallucinatory finale.

Set in Tardi's preferred early 20th century milieu, You Are There is drawn in his crisp 1980s neo-"clear line" style, gorgeously detailed, elegantly stylized, with impossibly deep slabs of black. You Are There is a feast for both the eyes and the brain.
As we cover in our documentary Dig Comics, the perception of comic books and their corresponding growth (or lack thereof) is notably different in countries other than the United States. This past summer, Dig Comics director/writer/host Miguel Cima discovered firsthand that France has a healthier, more diverse industry. This release from 1979 was apparently a significant moment in the growth of that industry. Here's an even bigger 19-page preview (PDF).
The Act-I-Vate Primer – $24.99
Edited by Dean Haspiel, Nick Bertozzi, et al.
160 pages; published by IDW Publishing; available at Amazon.com
In the tradition of the acclaimed and groundbreaking anthology, Flight, the ACT-I-VATE Primer showcases a wide array of stories and talent -18 innovative creators, 16 intriguing properties, one beautiful book – and all-new, never-before-seen stories and art!

act-i-vate.com is the premier comic art collective on the Internet, featuring many renowned cartoonists who produce all-new material on a regular basis. The ACT-I-VATE PRIMER is a PRINT EXCLUSIVE anthology by many of the Act-I-Vate creators. None of the material in this book will appear on the Act-I-Vate website for at least one year from publication date.
There is a lot of good comics work being doing online and Act-I-Vate.com is one of the best hubs to find it. This anthology is another fine sampler. Here's a 16-page preview.
That's it for this week. Tougher than usual to whittle it down to a halfway digestible list. Yay comics!
(Little late this week, with all of the excitement.)
Never read a graphic novel before? Haven't read a comic book in years?
Here's some brand new stuff coming out this week that I think is worth a look-see for someone with little to no history with comics. That means you should be able to pick any of these up cold without having read anything else. So take a look and see if something doesn't grab your fancy. If so, follow the publisher links or Amazon.com links to buy yourself a copy. Or, head to your local friendly comic book shop.
Disclaimer: While it may seem like it, I do not live in the future. For the most part, I have not read these yet, so I can't vouch for their quality. But, from what I've heard and seen, odds are good they just might appeal to you.
Finding Nemo: Reef Rescue #1 – $2.99
By Marie Croall & Erica Leigh Currey
32 pages (?); published by Boom! Studios
The biggest selling DVD of all time comes to comics! Nemo, Dory and Marlin have become local heroes, and are recruited to embark on an all-new adventure. Their reef is mysteriously dying and no one knows why! Facing dangerous waters and incredible odds, Nemo travels the great blue sea to save the one thing that matters most of all–home.
Yay, comics for kids! They really DO exist… sometimes… sporadically.
Boom! Studios (yes, the exclamation point is really supposed to be there) has begun putting out comics based on the Pixar movies and the Muppets. The Muppets one in particular has been getting great reviews. They'll soon be putting out comics starring the classic Disney characters like Mickey Mouse and Donald Duck.
Solomon Kane Volume 1: The Castle of the Devil – $15.95
By Scott Allie & Mario Guevara
128 pages; published by Dark Horse Books; available at Amazon.com
Robert E. Howard's vengeance-obsessed puritan begins his supernatural adventures in the haunted Black Forest of Germany in this adaptation of Howard's "The Castle of the Devil." When Solomon Kane stumbles upon the body of a boy hanged from a rickety gallows, he goes after the man responsible — a baron feared by the peasants from miles around. Something far worse than the devilish baron or the terrible, intelligent wolf that prowls the woods lies hidden in the ruined monastery beneath the baron's castle, where a devil-worshiping priest died in chains centuries ago.

* This team's debut Kane story is available for free at myspace.com/darkhorsepresents.

* "Solomon Kane is one of the toughest Robert E. Howard heroes to adapt to the comics page, but Scott Allie and Mario Guevara have done a stunning job. Unsettling, moody and eerily beautiful, their Kane is absolutely worthy of his creator." -Kurt Busiek

* Collects the Solomon Kane five-issue miniseries.
Those wacky puritans. Always gunning people down in vengeance. OK, not really wacky, but pretty cool art, and classic pulp-style adventure comics. In case you don't know, Robert E. Howard is the guy that created and wrote Conan the Barbarian, to give you an idea of what to expect. For an even better idea of what to expect, click on that MySpace link.
Greek Street #1 – $1.00
By Peter Milligan & Davide Gianfelice
40 pages; published by DC Comics' Vertigo
"Sex, death, ambition, revenge and a reminder that some stories are too true and too dangerous to ever die. GREEK STREET crackles with Promethean fire." — Grant Morrison

You're a boy from the hood. You're brought up rough in a children's home, trying to stay out of trouble but usually failing. Then at 18 you decide to track down your mother. Within hours of finding her, she's lying naked and dead at your feet. So you run to Greek Street. And that's when your troubles really begin…

Boasting a cast of sexy strippers, murderous gangsters, body-snatching mad women and a disturbed young girl who can see the future, GREEK STREET is Peter Milligan's reimagining of those brutal and visceral tragedies that graced the Theater of Dionysus in Ancient Greece – bloody tales about incest, homicide, beautiful oracles, all-knowing choruses, kings, monsters and gods – played out on the mean streets of modern-day Red-Light London.

Milligan – best known for his super-smart Vertigo work like SHADE THE CHANGING MAN, HUMAN TARGET and now HELLBLAZER– joins forces with illustrator Davide Gianfelice (NORTHLANDERS) to create an epic ongoing series that's both familiar yet completely new and always with the bloody, visceral edge that makes it a Vertigo book. Take a trip to GREEK STREET where the old stories are not through with us yet.
Come on, a brand new comic by two great creators for $1? That's worth the risk. Easy. Remixing Ancient Greek plays? OK, you've got my attention. This PDF preview runs down the cast of characters and their Ancient Greece analogues.
Existence 2.0 #1 – $3.50
By Nick Spencer & Ronald Salas
32 pages; published by Image Comics
Self-absorbed physicist Sylvester Baladine finds his consciousness transferred into the body of the hitman who just killed him! Things don't seem too bad until his daughter is kidnapped by the same people who "killed" him. Now, he's forced to dig up his past and solve his own murder… inadvertently making himself a target once more.
I really enjoy the voice of the main character, despite him being rather unlikeable. 5-page preview.
This is one of those great weeks where there are actual comic books that I can recommend. Usually I have to stick to graphic novels for something accessible. Yay for that!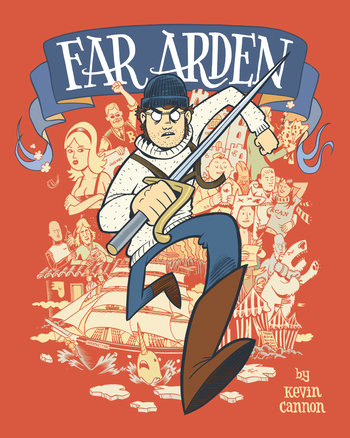 Far Arden – $19.95
By Kevin Cannon
400 pages; published by Top Shelf Productions; available at Amazon.com
Meet Army Shanks — crusty old sea dog and legendary brawler of the high Arctic seas! He's got just one mission: to find the mythical island paradise known as Far Arden, which lies hidden (so they say) in the wintry oceans of the far North. But there's more than just water standing between Shanks and his goal: he'll have to contend with circus performers, adorable orphans, heinous villains, bitter ex-lovers, well-meaning undergraduates, and the full might of the Royal Canadian Arctic Navy! Not to mention he's not so sure how to get to Far Arden in the first place…

In his first solo graphic novel, Kevin Cannon (THE STUFF OF LIFE, T-MINUS) proves himself a master spinner of yarns. FAR ARDEN is an epic journey through a world not quite our own, written and drawn with strokes bold and swift. As readers hurtle toward the stunning conclusion, Cannon assembles countless details, characters, and relentless plot twists into an astonishing whole far greater than the sum of its parts. Thrilling, eccentric, lusty, genuinely moving, and often hilarious (with sound effects that alone are worth the price of admission), FAR ARDEN may be the best adventure comic you'll read all year.
Here's a 7-page preview. This looks really funny!
Nelson Mandela: The Authorized Comic Book – $27.95
By the Nelson Mandela Foundation & Umlando Wezithombe
204 pages; published by W.W. Norton; available at Amazon.com
The fantastic, heroic life of Nelson Mandela, brought to life in this landmark graphic work.

Nelson Mandela's memoir, Long Road to Freedom, electrified the world in 1994 with the story of a solitary man who, despite unbelievable hardships, brought down one of the most-despised regimes in the world. Fifteen years after the publication of that classic work comes this fully authorized graphic biography, which relays in picture form the life story of the world's greatest moral and political hero—from his boyhood in a small South African village to his growing political activism with the ANC, his twenty-seven-year incarceration as prisoner 46664 on Robbens Island, his dramatic release, and his triumphant years as president of South Africa. With new interviews, firsthand accounts, and archival material that has only recently been uncovered, this visually dramatic biography promises to introduce Mandela's gripping story to a whole new generation of readers.

"You know that you've become really famous the day that you discover that you have become a comic character." —Nelson Mandela
Nelson Mandela will be 91 years old on July 18th. This might be the first authorized biography in comic book form of someone still living. If not, it's certainly notable that this will contain information not present in previous non-comic biographies of Mandela. Here's an interview by Publisher's Weekly with Verne Harris of the Nelson Mandela Foundation. Sure to be inspiring. And I love that quote.