Blog Archives
Never read a graphic novel before? Haven't read a comic book in years?
Here's some brand new stuff that came out last week that I think is worth a look-see for someone with little to no history with comics. That means you should be able to pick any of these up cold without having read anything else. So take a look and see if something doesn't grab your fancy. If so, follow the publisher links or Amazon.com links to buy yourself a copy. Or, head to your local friendly comic book shop.
Disclaimer: For the most part, I have not read these yet, so I can't vouch for their quality. But, from what I've heard and seen, odds are good they just might appeal to you.
Frankenstein's Womb – $6.99
By Warren Ellis & Marek Oleksicki
48 pages; published by Avatar Press; available at Amazon.com
1816 was called "The Year Without A Summer." In the weird darkness of that July's volcanic winter, Mary Wolfestonecraft Godwin began writing Frankenstein on the shore of Lake Geneva in Switzerland. But that is not where Frankenstein began. It began a few months earlier when, en route through Germany to Switzerland, Mary, her future husband Percy Shelley, and her stepsister Clair Clairmont approached a strange castle. Castle Frankenstein, some one hundred years earlier, had been home to Johann Conrad Dippel, whose experiments included the independent invention of nitroglycerin, a distillation of the elixir of life – and the transfer of a live soul into an awful accretion of human body parts! Mary never spoke of having entered the real Castle Frankenstein, stark on its hilltop south of Darmstadt. But she did. And she was never the same again – because something was haunting that tower, and Mary met it there.

Fear, death, and alchemy – the modern age is created here, in lost moments in a ruined castle on a day never recorded. The newest addition to Warren Ellis' Apparat line of original graphic novels has arrived! Following up the huge successes of Crecy and Aetheric Mechanics, Ellis turns his spark of mad genius to bring us a fantastical tale in this all-new original graphic novel illustrated in atmospheric perfection by newcomer Marek Oleksicki.
Warren Ellis is kind of disturbed. In this case, it should be a good thing. Here's a preview.
The Gigantic Robot – $16.95
By Tom Gauld
32 pages; published by Buenaventura Press; available at Amazon.com
"A perfect little book." – Daniel Clowes
A wry fable concerning the production of an impressive secret weapon whose promise goes unfulfilled. Elegant, meticulous and concise in both word and drawing, Gauld's signature style graces the pages of this silver-cover board book.
This 8.25 x 10.5 inch board book format is a bit unconventional but this looks too delightful to pass up. There are pictures of the book, interior pages, and other goodies to look at on Tom Gauld's Flickr account. (I love the mock Google ads he does at the end.) You can also order this straight from the artist's site, CabanonPress.com.
Abstract Comics: The Anthology – $39.99
Edited by Andrei Molotiu
232 pages; published by Fantagraphics Books; available at Amazon.com
Abstract comics? Don't all comics tell stories? How can a comic be abstract? Well, as it happens, beginning with the experiments of Saul Steinberg, through some of the more psychedelic creations of R. Crumb and Victor Moscoso, and with increasing frequency in recent years, cartoonists and other artists have played with the possibility of comics whose panels contain little to no representational imagery, and which tell no stories other than those that result from the transformation and interaction of shapes across the layout of a comic page. Reduced to the most basic elements of comics — the panel grid, brushstrokes, and sometimes colors — abstract comics highlight the formal mechanisms that underlie all comics, such as the graphic dynamism that leads the eye (and the mind) from panel to panel or the aesthetically rich interplay between sequentiality and page layout.

Abstract Comics, edited by Andrei Molotiu, an art historian as well as one of the best-known contemporary abstract-comic creators, is the first collection devoted to this budding genre. It gathers the best abstract comics so far created, including early experiments in the form by cartoonists primarily known for other types of comics, such as Gary Panter, Patrick McDonnell, or Lewis Trondheim, and pieces by little-known pioneers such as Benoit Joly, Bill Boichel and Jeff Zenick, as well as by recent creators who have devoted a good part of their output to perfecting the form, such as Ibn al Rabin, Billy Mavreas, Mark Staff Brandl, and many others. It also features first attempts, commissioned specifically for this anthology, by well-known cartoonists such as James Kochalka, J.R. Williams and Warren Craghead. Comprehensive in scope, Abstract Comics gathers work not only from North America, but also from France, Switzerland, Great Britain, Australia, and New Zealand, showing the rise in popularity of the genre to be a true international phenomenon. In the process, the anthology highlights the wide variety of approaches taken to the combination of abstraction and sequential art — approaches resulting in work that is not only graphically bold, but also often proves to be surprisingly humorous or emotionally disturbing.

Complete list of contributors (in order of appearance): R. Crumb, Victor Moscoso, Spyros Horemis, Jeff Zenick, Bill Shut, Patrick McDonnell, Mark Badger, Benoit Joly, Bill Boichel, Gary Panter, Damien Jay, Ibn al Rabin, Lewis Trondheim, Andy Bleck, Mark Staff Brandl, Andrei Molotiu, Anders Pearson, Derik Badman, Grant Thomas, Casey Camp, Henrik Rehr, James Kochalka, John Hankiewicz, Mike Getsiv, J.R. Williams, Blaise Larmee, Warren Craghead III, Janusz Jaworski, Richard Hahn, Geoff Grogan, Panayiotis Terzis, Mark Gonyea, Greg Shaw, Alexey Sokolin, Jason Overby, Bruno Schaub, Draw, Jason T. Miles, Elijah Brubaker, Noah Berlatsky, Tim Gaze, troylloyd, Billy Mavreas
Even more unconventional and on the more avant-garde side of things. More proof that comics are truly an art form. They can be just as weird, surreal, absurd, artistic, expressive and transcendent as any other medium. Fantagraphics has put up a Flickr slideshow of pages from the book. They also have a 20-page preview (PDF). I dare you to try this.
Pax Romana – $14.99
By Jonathan Hickman
136 pages; published by Image Comics; available at Amazon.com
In 2045, as Islam has overrun Europe and the West openly shuns monotheism, the Vatican funded, CERN Laboratories 'discover' that time travel is possible. The Pope orders the creation of a private army, and led by a few handpicked Cardinals and the finest graduates of selected war colleges, they travel back in time to 312AD – the reign of the first Christian Emperor, Constantine. Upon arrival, conflicting agendas, ideological differences, and personal greed see grand plans unravel.

Pax Romana is the tale of 5,000 men sent on an impossible mission to change the past and save the future. At the end of the world, will they succeed, or will they fail? This politically driven sci-fi epic comes from the creator of the hit Nightly News! Collects the entire Pax Romana series with never-before-seen back matter!
"Back matter"? Ew, what's that? Is it like back fat? No, back matter is a term that someone, I think Warren Ellis (the disturbed writer mentioned above), came up with to describe exclusive content semi-equivalent to DVD extras but for comic books. Anyway, this is significantly more conventional after Abstract Comics, so if you're not into that, some time traveling sci-fi adventure is probably more your speed. Although Jonathan Hickman doesn't usually take the easy way out. In fact, he might be a bit crazy, too. Fortunately crazy is pretty entertaining if you don't have to live with it. Here's a preview of the first four pages.
Kaleidoscope: A Mr. Toast Book – $10.00
By Dan Goodsell
64 pages; published by Imaginary World Comics; available at Amazon.com
Kaleidoscope is a visual tour of the World of Mr Toast. No story, just a potpourri of comics, photographs, watercolors and paintings. Inside you will find humor and fun with Mr Toast and his pals, Joe the Egg, Shaky Bacon and Clem Lemon. Great for kids and adults of all ages.
This looks absolutely adorable and hilarious all at once. At the publisher's link above, you'll find some preview pages, and you'll also be able to buy it for a few dollars less. So simple as to be brilliant.
Kind of a bizarre mix of comics this week, but I like it. I hope you find something you like, too!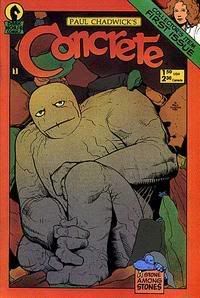 Dark Horse Comics entered its second year more than quadrupling its output.
Dark Horse Comics' flagship title Dark Horse Presents, nominated for a 1987 Kirby Award, continued to draw in more established creators like Paul Gulacy, who had been doing work for Marvel and DC for years, and had success with his own Six From Sirius mini-series. He was the first guest artist to provide covers, but no interior work. The anthology was also becoming a good venue for creators to stretch their wings when elsewhere they were typically pigeon-holed into one job. John Workman, who was working regularly as a letterer and occasionally as a colorist for DC and Marvel, and had already done some lettering work for Dark Horse's first issues, wrote and illustrated Roma. Steve Mattson had done some work for Eclipse Comics before coloring Dark Horse's earliest releases. He got to write and illustrate his own features, first Doc Abstruse and then the Vitruvian Man. Mark Badger of American Flagg fame returned after his collaboration with J.M. DeMatteis in Dark Horse Presents #2 from the previous year. In DHP #10, he contributed the first appearance of The Masque. Co-created with Mike Richardson and Randy Stradley, the character would be altered two years later by John Arcudi and Doug Mahnke into The Mask, and would later be adapted into a successful 1994 film starring Jim Carrey.
Dark Horse's second comic (and first monthly series) Boris the Bear continued to satirize comics and pop culture with riffs on Batman, ElfQuest, the Teenage Mutant Ninja Turtles (again), G.I. Joe, Rambo, and T.H.U.N.D.E.R. Agents. Jim Bradrick's Wacky Squirrel became a semi-regular back-up feature in the comic. But by early summer, new issues stopped coming out. Colorized versions of the first three issues were released, perhaps as a stop-gap. Several months passed before the twelfth issue was finally released, and then the series, which had been largely written or co-written with Mike Richardson, left Dark Horse and struck out on its own. A month later, Boris the Bear #13 was released by Nicotat Comics with Steve Mattson assisting Smith on script. The series continued under Nicotat until 1991 and then vanished into obscurity.
Despite the loss of Boris the Bear, a new comic's arrival earlier in the year would eclipse Boris in both popularity and acclaim. Paul Chadwick's Concrete, starring the character of the same name who had debuted in the very first issue of Dark Horse Presents, broke out in his own series while still showing up in DCP. The title was Dark Horse's first milestone title and went on to win critical acclaim and numerous industry award nominations. The property continues to garner respectable sales in collected editions and new mini-series.
Ron Randall's Trekker also graduated from the pages of Dark Horse Presents for a 6-issue limited series. A one-shot would follow in 1989 and then become all-but forgotten. This however was only the beginning of Randall's collaboration with Dark Horse.
The American was a brand-new property from the mind of Mark Verheiden. Virtually unknown at the time, Verheiden would go on to be a successful Hollywood screenwriter and producer for the hit TV series "Smallville" and (the new) "Battlestar Galactica". He would also write comics for DC Comics and return to Dark Horse on several occasions. While the 8-issue series did spawn a one-shot follow-up and a sequel mini-series in the 1990s, it has mostly faded away.
Mecha was one of Dark Horse's earliest full-color comics. Visually reminiscent of cartoons such as "Robotech," "Voltron" and "Battle of the Planets," the comic could arguably claim the distinction of being Dark Horse's first manga-esque comic. Dark Horse would eventually have great success in translating Japanese manga for North American audiences, essentially predicting the great manga influx of material beginning circa 2002.
The Book of Night was a 3-issue mini-series primarily consisting of reprinted short stories from Epic Illustrated by the fantasy and comic book illustrator Charles Vess. Each cover warned "Suggested for Mature Readers," a first for the young publisher.
It was clear that Dark Horse was beginning to diversify their line-up. Another strong sign of the things to come for the publisher was the acquisition of the Godzilla license, which no doubt helped them land future high-profile and profitable licenses like Star Wars, Aliens, Predator, Terminator, Buffy the Vampire Slayer and more. A special one-shot was released with some of the most high-profile and acclaimed names in comics at the time, like Steve Bissette, Alan Moore, Keith Giffen, Rick Geary, Charles Vess and others.
Another expansion was a reprint one-shot of old sci-fi comics from the late 1940s and early 1950s. Basil Wolverton's Planet of Terror contained stories by the influential illustrator from comics originally published by Marvel Comics and Key Publications. The comic included a cover by Alan Moore. Wolverton was a highly regarded artist whose work was later collected and celebrated by notable publishers such as Fantagraphics Books, but Dark Horse Comics was one of the first. Wolverton, who died in 1978, was inducted into the Jack Kirby Hall of Fame in 1991 and the Will Eisner Hall of Fame in 2000. Dark Horse followed up this reprint with several others reprint projects in the late 1980s and early 1990s, as well as a series of prestige busts modeled after Wolverton's unique illustrations.
Dark Horse Comics appeared to be doing well enough, but a break-out hit was needed.
Dark Horse's first year. Twenty years ago, Dark Horse Comics was just starting out, with only two titles – an anthology and a satire starring a teddy bear. How things would change!
Oregon-based retailer Mike Richardson assembled a bi-monthly anthology series called Dark Horse Presents using local creators who had recently gotten some professional credits under their belts from Marvel Comics, as well as some brand-new talent. Paul Chadwick, who had penciled some issues of Dazzler, Marvel's disco queen super-hero, broke out from the beginning with the story of Concrete, a man whose mind is trapped in a large rock-like body. (The character would eventually spin off into his own series and go on to win multiple prestigious industry awards.) The second issue of DCP included a story by J.M. DeMatteis. Having written for both DC Comics and Marvel Comics, and with a creator-owned series called Moonshadow turning heads, DeMatteis was easily the most established creator the young publisher could claim at the time. Dark Horse Presents proved successful enough to switch to a monthly schedule in the following year, as it attracted more and more creators with higher profiles. It continued until 2000, making it Dark Horse's longest-running title and America's longest-running anthology comic to date.
Meanwhile, newcomer James Dean Smith's Boris the Bear was a violently satirical book that took aim at unfunny funny animals (like the Teenage Mutant Ninja Turtles), the giant robot craze, and ownership and creator rights issues in comics. His rival Wacky Squirrel, introduced in Boris the Bear #4, would get his own series the following year. While somewhat forgotten today, the book turned out to be something of a hit and continued running at Dark Horse until Smith began publishing it under his own Nicotat Comics in 1987.