Blog Archives
Guest columnist Scott Shaw! brings his perspective as an experienced professional cartoonist and active participant in the comic book industry for more than 40 years. Get an insider's look at the art form from someone in the trenches every day.
"Cartoony Comic Books – Threat or Menace?"
By Scott Shaw!
Back in the late 1980s, when he was drawing such titles as DC's Doom Patrol and Marvel's Punisher, I ran into Savage Dragon creator-to-be Erik Larsen at a San Diego Comic-Con, where I complimented him on his "cartoony" drawing style. But instead of accepting my kudos, Erik – never the sort of person to mince words – made a sour expression on his face and said something to the effect of "Actually, I'm trying as hard as I can to dump that style. It's costing me work!" Fortunately, Erik eventually changed his mind, and that's why Savage Dragon is one of my favorite funnybooks – even when it's deadly serious, it's delightfully outrageous, exaggerated and somewhat ridiculous looking. It's just what I dig in a superhero comic, which in my opinion should look outrageous, exaggerated and somewhat ridiculous – just like the concept of brightly costumed flying men, super-strong women and wall-walking whatchamacallits.
I recently had dinner with a fellow cartoonist whose work I've admired for a long time, Joe Staton. Joe's one of those rare cartoonists who has drawn everything from Green Lantern to E-Man to Scooby-Doo and all with equal expertise. We discussed our styles, both of which share a humorous bent. He explained that his current gig, drawing the syndicated Dick Tracy comic strip written by Mike Curtis, was the perfect assignment. Not only was Dick Tracy creator Chester Gould his original inspiration to become a cartoonist, but Joe was also getting more than a bit tired of dialing back the cartoony-ness of his style when drawing superheroes and the like. The audience for those comics apparently prefers a darkly photorealistic approach over "light 'n' fun". With Dick Tracy, Joe can get paid for drawing what he loves to draw – and he does it damn well, too.
Both of these stories about cartoonists whose careers both included stretches in which they were forced to draw much "straighter" than they'd have preferred — have happy endings. And those just don't happen nearly often enough, at least not often enough for the funnybook industry. But then, I'm a cartoonist.
Back when I was growing up, nearly all comic books and comic strips were drawn in "cartoony" styles, no matter how dead serious their storylines could get. Here are just a few my favorite cartoonists who drew "straight" material in decidedly less-than-serious styles: Dick Sprang (his square-jawed, Dick Tracy-esqe Batman and giant typewriters); Ross Andru and Mike Esposito (of their work on Metal Men, Wonder Woman and "The War That Time Forgot" in Star Spangled War Stories, cartoonist Evan Dorkin once observed that Andru and Esposito's characters all looked "insane"); Jack Cole (his Plastic Man was equal parts superhero and humor strip while his crime and horror stories were only slightly less outrageous); Steve Ditko (The Amazing Spider-Man, "Dr. Strange" in Strange Tales, Blue Beetle and The Creeper – all cool, all weird, all cartoony as hell); Ramona Fradon (her "Aquaman" in Adventure Comics was cartoony but warmly beautiful, her Metamorpho was the only version that worked visually); Jack Davis (his style was as much at home on straight horror in EC's Tales From The Crypt as it was in Mad); Mike Sekowsky (his Justice League Of America featured the widest Superman ever); Marie and John Severin (this sister-and-brother act was known for comedy but produced Marvel's wonderful Kull The Conqueror together); and Jack Kirby (whose resumé spanned every style and genre – from Captain America to "Earl The Rich Rabbit" – while always remaining uniquely himself).
In fact, I'll never forget the smile that spread across Jack's face, sometime during my first visit to his home, when I told him that he was my favorite cartoonist. And to most of us who turn blank pages into stories and artwork, "cartoonist" is the label we prefer. After all, we write and draw cartoons. I'll even bet that Hal Foster – whose Prince Valiant syndicated Sunday strip was about as realistic as any famous funnies pages feature ever – referred to himself as a "cartoonist". (Hey, Foster was a dues-paying member of the National Cartoonists Society for many years.)
But then, in the mid-to-late 1960s, Neal Adams came along. Although Neal's first published comic book work appeared in an issue of Archie's Joke Book, he had a background in the sophisticated comics-format ads of the fabled Johnstone and Cushing ad agency and the Ben Casey syndicated comic strip. After drawing a slew of Superman-related covers for DC editor Mort Weisinger, Neal went on to stellar gigs on "Deadman" in Strange Adventures, "Batman" in Detective Comics, X-Men and The Avengers. Suddenly, everyone was raving about how "realistic" Neal's style was. By the time Jack Kirby's first "Fourth World" comics debuted at DC, the "King Of Comics" found himself sharing his position of industry importance with Neal Adams.
So, what is "realistic", anyway?
Well, it sure ain't Neal Adams' drawing style. Neal's art is impeccably executed, but it's an idealization of reality as seen through a perspective from Madison Avenue. The work of the great Russ Heath is certainly a bit more realistic, but Russ' approach to drawing – even at age 85 (!) – is still too fastidious to be considered realistic. I suppose Alex Ross' work is about as "realistic" as comic books get… but his dynamic poses, staging and compositions are anything but everyday. And isn't "realistic" supposed to reflect the "real world"? But one thing's for sure: ever since Neal Adams entered the world of comic books, the ability to draw in a "realistic" style has been the goal of many – in my opinion, too many – comic book artists. (Please note that I avoided using the word "cartoonist".)
A few years ago, I displayed my work at the Long Beach Comic-Con and the pro set up at the table next to me was a talented young guy named Joshua Middleton (NYX, Superman/Shazam: First Thunder, many covers). I'll admit I was unfamiliar with his artwork, but after witnessing the rabid demand for his originals, I studied up on Josh and his approach to drawing comic book art. My impression is that he shoots specific photographs that relate to the scripts he illustrates, uses PhotoShop to trace them, adds backgrounds and props, inks the tracings and, with his impeccable color sense, paints each image digitally. If that's not accurate (and it may not be, considering my aversion to technology), I apologize to Mr. Middleton, but the final result is some very impressive "realistic" art, even if the pages of original artwork that Josh was selling hand-over-fist to an eager following did resemble extremely well-drawn coloring book art.
Here's the big issue I don't understand. How come the average person out there is resistant to reading a "straight" comic book like Watchmen, Marvels or The Rocketeer but loves humorous comic strips like Peanuts, Calvin And Hobbes or Mutts? And how come faithful comic book readers' tastes seem to be the opposite, flocking to the straight stuff yet shunning the funny stuff like the plague? (I'll never forget the year that Keith Giffen, J. M. Matteis and Kevin McGuire's Justice League Of America received an Eisner Award nomination for "Best Humorous Series". Sheesh!) If the world of comic books paralleled the real world, Bongo's Sergio Aragonés Funnies would be America's best-selling comic book – and deservedly so, since it's written and drawn by the World's Best Cartoonist – instead of being a mere niche title!
Are the vast majority of modern comic books going for a dark and/or photorealistic approach to storytelling because their publishers think they're competing with the various live-action films? Or instead, are they trying to attract the attention of live-action filmmakers?
Fortunately, there are a few cartoonists left who "get" it. Kyle Baker (The Bakers, Special Forces and Deadpool Max), Roger Langridge (The Muppet Show, Thor The Mighty, Snarked! and Popeye) and Darwyn Cooke (DC: The New Frontier, Richard Stark's Parker and now, Before Watchmen) – and the aforementioned Erik Larsen and Sergio Aragonés are all delivering comic book stories with a much welcome (for me, at least) cartoony touch.
Maybe some of them can answer this question better than I can: since when was a flying man any more "realistic" than a talking duck?
– SS!
Next up: "Why I Don't Dig Superhero Movies!"
Scott Shaw! — yes, that exclamation point has adorned his name since junior high school — currently writes and draws comic books starring the Simpsons for Bongo Comics, The Adventures of Captain Rochester for Rochester Electronics, and his autobiographical comic strip, Now It Can Be Told! for Act-I-Vate, as well as performing his live Oddball Comics show. He just finished storyboarding four episodes of Cartoon Network's Annoying Orange animated show, is finishing a new 8-page Now It Can Be Told! story for Dark Horse Presents ("I Covered Myself With Peanut Butter To Become… The Turd!") and will be drawing an upcoming Mark Evanier-written Garfield comic book story for KaBOOM!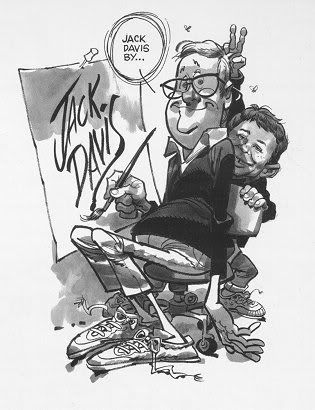 Today in 1924, John Burton Davis was born in Atlanta, Georgia. As Jack Davis, he grew up to draw for EC Comics' MAD Magazine, as well as their early 1950s line of comic books that included Tales from the Crypt, The Vault of Horror and Two-Fisted Tales. Stints at Warren Publications' Creepy and Eerie magazines followed in the 1970s. He also became a high-profile illustrator in advertising after his work was featured on the cover of Time magazine. He has been recognized by the National Cartoonist Society, the Society of Illustrators, the Will Eisner Hall of Fame, and the Jack Kirby Hall of Fame for his immensely influential career. (Sources: Toonopedia, Lambiek, Reuben Awards, American Art Archives, RankinBass.com, Monster Kid Online Magazine, Crazy Campsongs, and Wikipedia)